We offer full range of exclusive aluminium windows according to your requirement, specification and your needs. Discover the benefits and applications of various types of Side hung and Top hung window; Sliding windows (vertical and horizontal sliding), Pivot windows, Tilt and Turn windows, Arched and Round windows.
Our wide range of aluminium doors according to your setting and requirements such as sliding (patio) doors, hinged doors, French doors, swing doors, sliding folding doors, or pivot doors. All available in standard sizes or custom sizes to suit your application.
Shopfront and Storefront solutions are custom made to your own designs and specifications, these can be fitted with various door and window options, in a variety of aluminium finishes and glass specifications.
If you're looking to have aluminium and glass fixtures offer a perfect solution for affordable and aesthetically pleasing way. It has to be one of the most cost effective ways of adding an extra living area or sun room to your home or office building.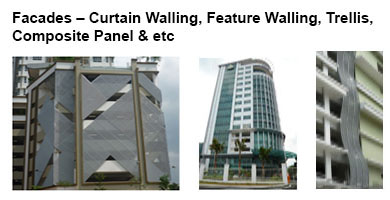 When it comes to creating impressive, high-performance building facades, range options of impressive and practical facades provide the designers with the flexibility to create high-performance solutions. Like curtain-walling systems, feature walling system, Composite Panel Cladding, Trellis, Shopfront systems and Sun louver systems.
Sun louvers are an aesthetically pleasing method of eliminating direct sun rays from entering a building, without impeding the flow of air, and still maintaining a natural light source. They also provide an attractive feature to the facade of a building, and in some cases are used purely for aesthetic purposes, or to create more privacy.