Select The Right Sliding Door For Your Application
Vantage sliders are both visually attractive and extremely practical. They have earned a reputation as the most versatile and economical door type for access to deck and patios. The standard slider provides half the frame width opening for access to decks and patios and comes in two, three or four panel configurations.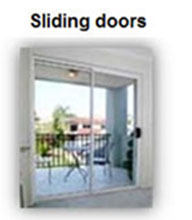 Sliding doors
have been tested to water making them suitable for most residential applications. Doors can be re-handed on site to change the slide direction if required. We also have our own proprietary sliding door lock to complement the door.
Large Openings both three panel and six stacking panel doors give very large openings (over 60%).
Slider doors open approximately 50% more. The two sliding panels stack behind the third fixed panel.
Stacking Sliding Door is the natural choice where wide opening sliding doors are required.
They open to two-thirds compared to standard sliding doors which open to less than half its width. Stacking Sliding Door has been tested to water resistance making it suitable for most residential applications. All unwanted recesses have snap-in fillers - improving the appearance and weather performance of the door.